Please join RSDSA for our next Facebook Live with CRPS Warriors Josh Borg, Cassie Christensen, and Kelly Considine this Thursday, May 19th at 7:00p Eastern as they discuss their CRPS journeys, treatments, involvement with our annual virtual walk, and more.
If you have any questions about the live, or for our guests, please email us by replying to this email. If you miss one of our Facebook Live sessions, you can always watch the replay on the RSDSA YouTube Channel as we do record each one.
Josh Borg works as a marketing lead. He had a minor shin injury in July 2019 after a piece of lawn equipment fell on his leg. Josh worked with doctors over the next nine months to find answers for the extended period of pain that seemed to worsen over time. He was then diagnosed with CRPS in April 2020.
Since then, Josh has worked with primary and pain management doctors, as well as physical and behavioral therapists, to tailor a regimen that allows him to take control of his CRPS journey. He was a participant in RSDSA's Virtual CRPS Awareness Walk in 2021 and reached his goal of running a 5k that day. Josh has a team fundraising page for the walk this year as he works to bring awareness to this condition and to RSDSA.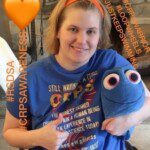 Cassie Christensen and her partner, Brandon, live in Sacramento with their tabby, Chewbacca. Cassie is supported on her CRPS journey by an enormous family & friends circle! Cassie, her mom, Karen and her grandmother all have CRPS. They are three generations of CRPS Warriors having lived with it for over 20 years!
In May 2016, Cassie fell down the stairs during a fire drill at work injuring her left ankle. She was treated under the federal workers' comp system (OWCP). Fortunately, she received an early diagnosis of CRPS. Unfortunately, OWCP inappropriately refused and delayed her treatment for over a year, which resulted in a severe case of CRPS. This led to Cassie being wheelchair-bound in less than two years post-injury. Cassie is a fierce advocate for CRPS Warriors & RSDSA and is dedicated to remission. She has many stories to share regarding mental health, workers' compensation, and advocacy.
Kelly Considine has been battling CRPS for nearly 17 years a result from spraining her ankle during volleyball when she was a senior in high school. Kelly served as Walk chair for RSDSA 's 2nd Annual Virtual CRPS Awareness Walk and is this year again the chair for our Annual Virtual CRPS Awareness Walk.
Kelly does not let CRPS define her as she continues to forge ahead. Kelly has advocated for CRPS Warriors for years by getting recognition from her city and state for Color the World Orange Day™. She also works to raise awareness in November aka CRPS Awareness Month. This year Kelly joined with the Advocacy Committee to speak with her representatives in Congress. She was invited to a press conference with her legislators regarding ADA and infrastructure accessibility. Kelly is accompanied on her CRPS journey by her Golden Retriever, Gunner, her self-trained service dog and friend.