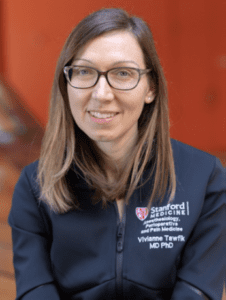 Join RSDSA for our next Facebook Live with Dr. Vivianne Tawfik, Director of Tawfik Laboratory at Stanford School of Medicine on Thursday, May 26th at 7:00p Eastern as she discusses updates on CRPS from basic science to clinical practice.
Vivianne Tawfik, MD, PhD is a board-certified Anesthesiologist and Pain Medicine physician who specializes in the treatment of complex chronic pain disorders including chronic post-operative pain, complex regional pain syndrome and peripheral nerve injury.
After completing her undergraduate degree at McGill University in Montreal, Canada, she obtained her MD and PhD in Neuroscience, with a focus on basic pain mechanisms, at Dartmouth Medical School in Hanover, New Hampshire. She then moved to California to join the Stanford Department of Anesthesiology, Perioperative & Pain Medicine as an anesthesiology resident in the Fellowship in Anesthesia Research and Medicine (FARM) program, of which she now serves as the Director.
After completion of her subspecialty fellowship training in Pain Medicine, Dr. Tawfik joined the faculty at Stanford and continues to research the immune contribution to persistent pain using clinically-informed basic science while also caring for patients suffering from chronic pain. Her lab uses a variety of approaches, from single cell sequencing to complex behavioral paradigms in mouse pain models, to investigate the contribution of spinal cord glial cells (microglia & astrocytes) to the transition from acute to chronic pain.
In addition to pursuing exciting scientific questions in a clinically-informed way, Dr. Tawfik enjoys mentoring students and other trainees. She is co-President of the early-Stage Anesthesiology Scholars (eSAShq.org), a group focused on providing an academic home for junior anesthesiologist-scientists.
If you miss one of our Facebook Live sessions, you can always watch the replay on the RSDSA YouTube Channel as we do record each one.