22nd Annual Pawcatuck, RI, River Duck Race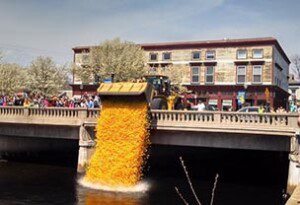 HOW CAN A RUBBER DUCK HELP RSDSA?
The Pawcatuck, Rhode Island River Duck Race is happening on Saturday, April 30, 2022, and RSDSA is selling Duck Sponsorship Certificates for $5 each!
Approximately 20,000 rubber ducks will participate in the race. Each duck is the exact same size, color, and weight. Judges will preside over the event from various land and water locations. A specially created funnel will ensure that only one duck at a time crosses the finish line. If the duck that crosses the finish line has the same number that is on your Duck Certificate, you will be the winner of the race!
There are over 90 valuable prizes awarded with the grand prize being a trip for four to Disney World with airfare, hotel accommodations, and park passes or $2500 in cash! The grand prize winner is responsible for all taxes. Prizes must be picked up within 60 days of winning.
Additional prizes include getaway packages, gym memberships, gift certificates to retailers, restaurants, golf courses, and much more! You do not need to be physically present at the event in Rhode Island to win a prize.
Where: The bridge in Downtown Westerly – Pawcatuck, Rhode Island
Date: Saturday, April 30, 2022
Time: 11:30 AM – 2:00 PM, The race takes place at 1:30 PM
Event Sponsor: The Ocean Community Chamber of Commerce and the Ocean Community Chamber Foundation
Duck Certificates: $5.00 each. Your certificate(s) will be emailed directly to you.

RSDSA will receive $2.85 per duck sold and the Chamber of Commerce will receive $2.15 per duck sold. We are both non-profits and will both benefit from this event.

RSDSA's proceeds will support programming for our camp for children with chronic pain as well as education and research for individuals and families in the CRPS community.

If you are interested in helping to promote this event by selling Duck Certificates, please contact us at jkrassner@rsds.org.