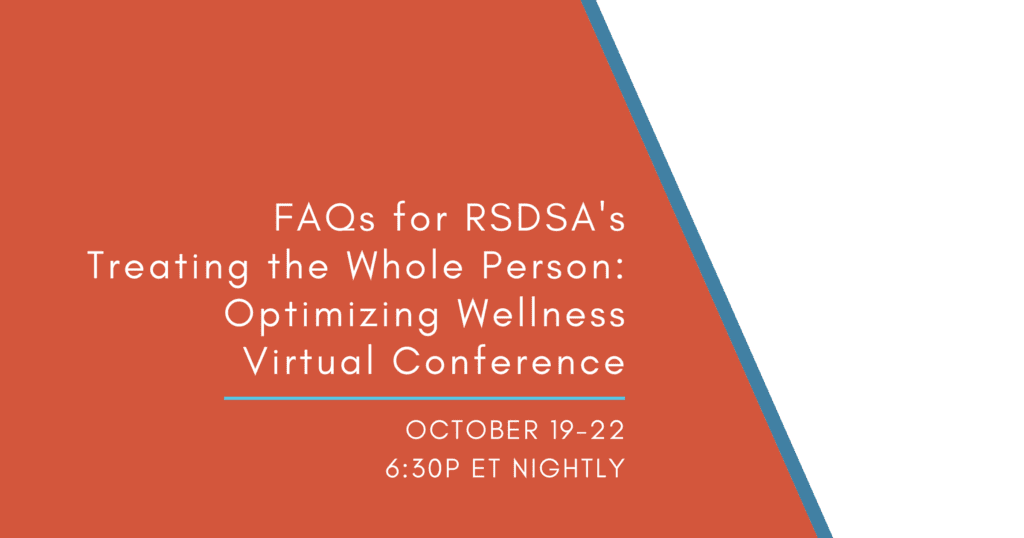 The RSDSA team is excited to have you join our first virtual conference from October 19th through October 22nd. Below are a few FAQs to ensure you have an amazing experience!
Q. Is the conference free?
The conference is 100% free to join!
Q. When does registration close?
Registration does not close! You can register at anytime, even once the sessions have started!
Q. What time does the conference begin?
The conference officially begins with networking and our expo hall at 6:30p Eastern / 3:30p Pacific each night. Sessions begin at 7p Eastern / 4p Pacific each night.
Q. Which browser should I watch the conference on if I'm on a desktop or laptop?
Hopin recommends using Google Chrome or Mozilla Firefox when watching from your desktop or laptop. Safari is not fully compatible for video on desktops. Explorer/Edge is not compatible on desktops so we do not recommend using Explorer.
Q. Can I watch the conference from a mobile device?
Yes! Please visit https://hopin.to/events/rsdsa202ob on your mobile device with Google Chrome or Safari. There is no app to download!
If you are watching on your phone, once you login you will see the chat. You can minimize the chat by clicking the arrow on the right. From there, you'll be able to see the buttons that says Reception, Session, Networking, and Expo.
While the conference is available on your phone, watching on your computer will give you the best experience.
Q. Where can I find the event schedule?
The event schedule can be found here.
Q. How do I join a session?
At 7p Eastern each night, click on the "Sessions" button to see which sessions are available to join. Click into the one you are interested in. There will also be a chat inside of each session that will allow you to speak with other Warriors and ask the speaker(s) questions.
Q. Can I view more than one session at a time?
If there are two sessions running at the same time that you want to participate in, you can always "hop" between the two of them.
Q. How does the networking feature work?
Hopin's networking feature allows you to have a one on one conversation with another CRPS Warrior for up to five (5) minutes. Once you click on the networking tab, you'll see a sentence that says "Are you ready? Click the button below to meet someone." After you click the blue "Ready" button and confirm your audio/video settings (like the screen shown below), you'll be in the queue to meet face to face with another Warrior.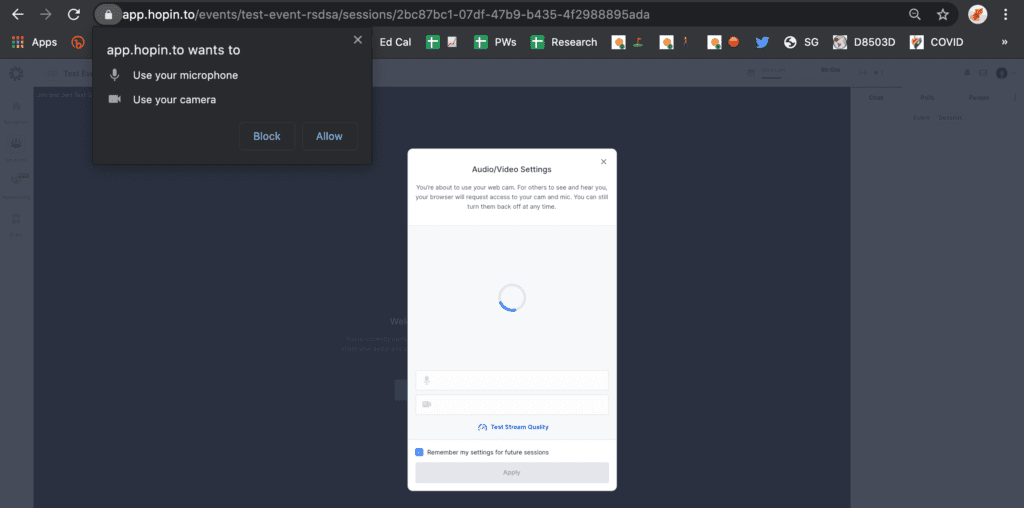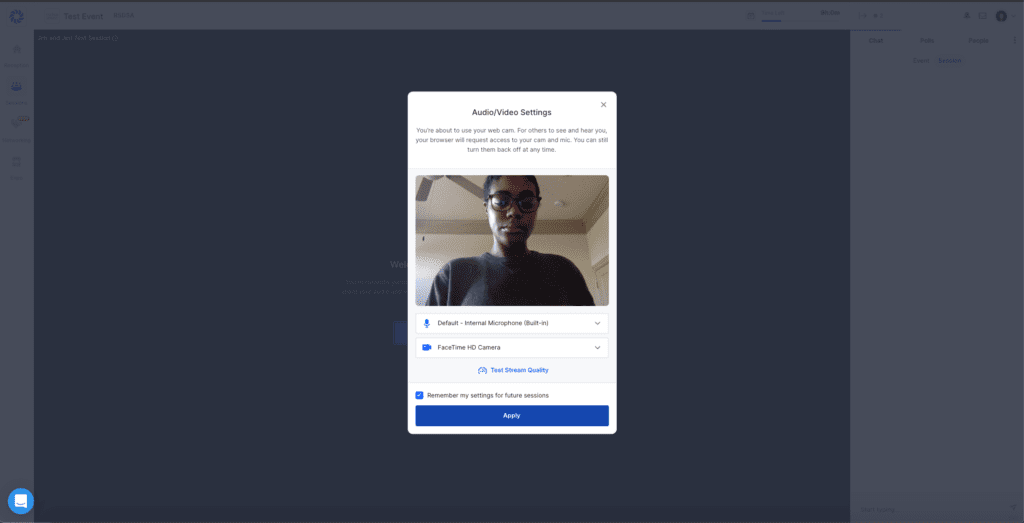 If no one is available to chat at the moment, you'll see a sentence that says "You'll meet the next person available."
Once you match with another Warrior, if you find yourself enjoying the conversation and want to connect with them, you can click the blue "Connect" button in order to share your information with them. It will only be shared with them if they click Connect as well. Their information will show on the Home screen when you log in to Hopin at https://hopin.to/account.
If you are not enjoying the conversation with that Warrior, or if the conversation is done, you can click the "Leave" button and you will not be matched with that Warrior again.
The timer at the top will show you how many minutes and seconds you have left with that Warrior.
The networking sessions will be available 30 minutes before and 30 minutes after our sessions each night.
Q. Can I watch the sessions later? Are they being recorded?
Each session will be recorded and you'll be able to watch the presentations once we upload them to the RSDSA YouTube Channel here.
Q. When does registration close?
There is no deadline to register. If the event has started and you have not registered yet, you can still register and hop right in!
Q. Can I join RSDSA's virtual conference session on Thursday, October 22nd and watch the final presidential debate?
Of course! Our conference ends at 8:30p Eastern on Thursday, October 22nd and the final debate begins at 9p Eastern.
Q. What should I do if I have a question that is not listed here?
Comment below or send us an email at [email protected]!