Written by Jason A. Fox for the RSDSA blog.
A lot of my patients have been surprised by how understanding I am of their pain, or how quickly I can tell they are hurting before they say anything. They're shocked to find out that behind my smiling face I have one of the most painful conditions in the world, complex regional pain syndrome (CRPS), previously known as reflex sympathetic dystrophy (RSD).
I crushed my arm in the military in 2009. There was decreased awareness about CRPS at that time. I didn't receive the appropriate treatment and I was medically retired under a different diagnosis.
The first six years were a living nightmare. Every day it felt like my arm had been dipped in burning oil. It was weak, atrophied, partially paralyzed, and I had a terrible tremor. Some days I just wanted to cut my arm off. I know now that wouldn't have helped! It sure seemed like a better idea at the time, but I am thankful I didn't.
In 2017 I met an excellent physician who gave me the correct diagnosis. He helped me learn how to manage my condition. I got my pain level under control enough to finish my undergraduate studies at Liberty University. I received a lot of support from my alma mater, and they were integral in helping me learn how to be an effective student despite my disabilities. The condition thankfully went into a partial remission and became tolerable.
In 2020 I began attending Alverno College in Milwaukee to obtain a Bachelor and Master of Science in Nursing. The nursing professors at Alverno were incredibly understanding of my condition and very supportive when my condition would flare up and make it difficult to get through a lecture. The Department of Veterans Affairs also supported me throughout my recovery journey and their Vocational Rehabilitation department funded my education and provided me with the resources I needed for success. They worked hand in hand with my university to ensure I was able to meet my goals.
In December of 2022 I graduated. My first work experience after 13 years of disability was in the operating room for Aurora Medical Center – Summit in Summit, Wisconsin. They have a fantastic surgical team at Aurora Summit. My wife had an unexpected severe reaction to anesthesia during a minor procedure in 2021 while I was in school, and they saved her life. This was where I wanted to start my nursing journey. During my work there I learned that spinal cord stimulation was a possible treatment for CRPS. I met a brilliant physician there, Dr. Colin Stair, who specialized in interventional pain management. He told me if my condition ever came out of remission to come see him.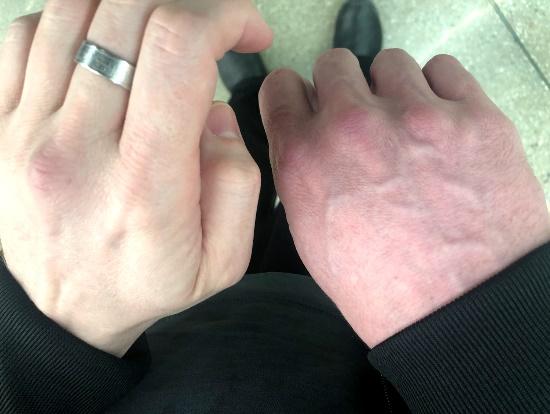 Well… it did. In a big way.
I made it through two years of nursing school and four months of work before CRPS came back and it was worse than I had ever experienced. My arm began turning purple, and it felt like it was on fire 24/7. I could no longer handle my duties as an operating room nurse and had to resign and take care of my health.
Dr. Stair and the incredible surgical team at Aurora Summit implanted the Medtronic Intellis device. The next morning when I woke up from my first surgery, I finally had a point of reference to compare my pain to. My arm hurt worse than the fresh surgical incisions in my back, with no pain medication in my system. That's what I lived with for thirteen years. Pain worse than surgical wounds.
When we turned on the Medtronic Intellis at my follow-up appointment, I experienced complete pain relief. My arm color returned to normal, and I regained full use of the motor function in my arm with no tremor.
After thirteen years of unspeakable suffering I got my life back.