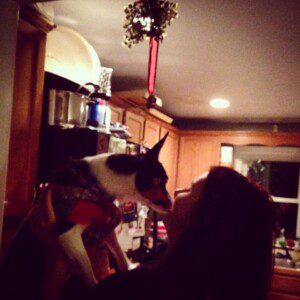 By Samantha Barrett, Special Events Coordinator
Tis the season to be jolly! Or at least, that's what I've heard. I love the holiday season. There are beautiful lights and decorations everywhere, there are people singing cheery songs, there are fun, mindless movie marathons on TV, there is delicious food- all of my favorite things wrapped into one season. Maybe that's why I am so exhausted this year! In my years with CRPS, I've noticed that things are a little different than what they used to be. But, I am finding a way to be a little less "bah-humbug" and a little more "holly jolly." While some people may not understand why I'm Scrooge one moment and good ol' Saint Nick the other, I am trying to change that. So, I created a list of the twelve things that I want my friends and family without CRPS to know this holiday season. Hopefully, you will be able to relate!
I'm actually not Scrooge/the Grinch, I'm just in pain/tired. The stress and excitement brought on by the holidays can make my pain worse. Add in any shopping, cooking, baking, crafting, and working and my pain is that much worse. Pain makes me tired because my body wants to shut down. I'm trying to seem happy, but this pain has a mind of its own. And in the end of both books/movies, you see that Scrooge and the Grinch really have huge hearts, so let's focus on that!
I have to save all of my spoons in order to get to that holiday party. If you haven't read up about the spoon theory, read about it here.  Everything I did today (and this whole season really) has used up a majority of my spoons. If I'm able to appear at a holiday party, know that I am probably using all of my spoons for the rest of the week to come. I don't like to miss out on things, but I only have so many spoons.
Ideally I would like a cure for the holidays. Then you wouldn't have to read lists like this and all of my friends that live in pain would be able to be pain free. I would be pain free. That would be incredible.
One of the best things you could do is educate yourself on what I'm going through. Please don't assume that just because CRPS isn't life threatening means it is not serious. According to the McGill Pain Index, I am living with the worst documented pain. It doesn't go away, there is no cure, and I fight this battle daily. If you could even just say "I may not experience what you are going through, but I am trying to understand," that would make my entire holiday season so much better. Even asking if there is anything you can do for us is huge. A little thoughtfulness goes a long way with us.
I really am excited about the blender/toaster/socks you just gave me, but I also just had a surge of pain. I got really excited. That caused my nerves to go haywire on me. I did just wince, but it wasn't towards anything like that. I can't help what I do when I get a surge of pain. I am so grateful that you even thought of me. Sometimes I feel isolated because of CRPS, so the fact that you even got me something is sweet!
The best way to spread holiday cheer may be singing loud for all to hear, but that's causing a bit of discomfort for me. Loud noises and vibration can make pain even worse. While I love to hear our family of 30 people sing "Jingle Bells," it really can hurt. I would love to sing with you, just maybe on a much smaller scale.
Right now, I feel as though you could roast chestnuts over me, or like Frosty the Snowman, but for your sake I'm going to pretend I'm fine. CRPS pain is fire and ice simultaneously. I feel as though I'm putting my body on the hot stove and not being able to take it off despite how bad it hurts. Then I get a bit of a frostbite feeling at the same time, but it doesn't neutralize the burning pain. But I live with this pain every day. I'm going to try to pretend everything is fine because it is a holiday and I don't want to take away from it.
Watching a movie is the perfect plan for a holiday party for me right now. Watch any kind of movie with me. Let's put on the Hallmark Channel and drink hot chocolate. I am perfectly content doing this instead of going out in the cold and traveling to an ugly sweater party. I get to stay home, wear my comfy pajamas, and avoid any kind of disturbances that could make my pain worse. Win win!
It took me a few hours to get this dolled up for the occasion, but that doesn't mean my pain is gone. I really do appreciate the compliments I can get when I take the time to look "healthy" (i.e. "You look like you're having a good day today" or, "Wow, you don't look as tired as usual"). But I have chronic It doesn't go away just because I'm having a good hair day. While I do like when you group me with you non-CRPS friends, just remember I still have my limits.
If I excuse myself to go take a nap, I'm not being anti-social, it's how I can get through the day. This one is key. On Christmas Eve and Christmas Day, I am frantically trying to help clean, wrap, cook, bake, and entertain guests. If I have to excuse myself so I can go lay down, please don't think I'm trying to be rude. I'm just trying to bounce back so I don't miss the rest of the day. Plus, excitement comes into play again here and spikes my pain. Just give me a little bit to recover.
If I'm going to a party, I'm trying to wear the most comfortable outfit possible. Have you seen that they make ugly sweater shirts now that are much softer than ugly sweaters from a thrift shop? Chances are, if you have an ugly sweater party, I have to bend the rules because my body is sensitive to materials. It may not be a sweater, but at least it's close. It was either this or I couldn't come, and I really wanted to be able to come.
Everyone with CRPS is different. We all respond differently to various stimuli and have different ways of coping with our pain. Some people with CRPS may not have to nap in the middle of a holiday or may be able to wear that ugly sweater. But others may have to take a few days to recover from the holidays and may have to avoid any holiday party all together. The best way to know how your friend/family member with CRPS will be is to ask. We try our hardest to be able to participate in as much as possible, but we all have our limits. When in doubt, you have to just ask us.