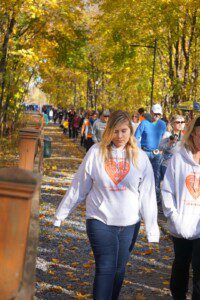 I can't believe it is September already! Before we know it, the leaves will start falling, pumpkins will start glowing, and it will be sweater weather (at least here in New England). Not only do all of these amazing things happen, but this is when our events really start to kick up. Woohoo!
We're starting September off with a bang. This coming weekend, we will be in East Meadow, New York at Eisenhower Park for the 2nd Annual Long Island CRPS/RSD Awareness Walk. This event is going to be spectacular, as the committee members have worked tirelessly to put together a great day. There will be raffle items, crafts, fake tattoos, a barbeque, and of course an environment of hope and support on top of the walk. While online registration is closed, you're welcome to bring your team down on Saturday morning for walk-up registration. For more information, you can visit their FirstGiving page by clicking here.
If Long Island is close, but just a little too far, we have another fabulous event the next weekend. This will be the 5th one of these walks. The 2017 CRPS/RSD Awareness Walk at Cooper River Park in Pennsauken, New Jersey is always a fun time. There will be music, fun, and another environment of hope and support at this walk. This fun-filled crowd makes every walk a great time. Help them celebrate this major milestone walk! While online registration is closed, you can walk-up and register the day of the walk. For more information, please visit the FirstGiving page by clicking here.
We're continuing to move about the east coast as we travel to Easton, PA for Knock Out Pain 5K and 1 Mile Family Roll and Stroll. This event is put on by an entire family that has come together to support their loved one with CRPS, as well as the entire CRPS community. We are sure this is going to become an annual event. Help support this event by clicking here! Don't miss out!
Following these fun-filled walks are two golf events in October. The first is our Longest Day of Golf. On October 2, we intend to have a golfer taking to the green to complete as many holes of golf as possible. We are looking for per hole pledges and one-time donations. If you'd like to make a one-time donation, you can donate by clicking this link. If you'd like to make a pledge per hole and pay your pledge amount times the holes completed, please email Samantha at [email protected]. From there, we are cruising on over to Galena, Ohio for the 2nd Annual Tame the Pain Golf event. If you know golf fanatics, encourage them to sign their teams up for this day of golf. There are prizes, raffles, lunches, team pictures, and a full day of golf for our participants, all for a good cause. You can find out more by visiting the Tame the Pain page here.
This is where we need your help. November is CRPS Awareness Month. We currently have a few walks scheduled, but we want to know what you want to see. What do you expect from RSDSA? Is it an event? An online awareness campaign? Vlogs? Blogs? Merchandise? Let us know what you want to see from us. If you want to plan an event on our behalf, be sure to contact us at [email protected]. We want to serve the CRPS/RSD community well this fall and make each and every one of you proud. Won't you help us?