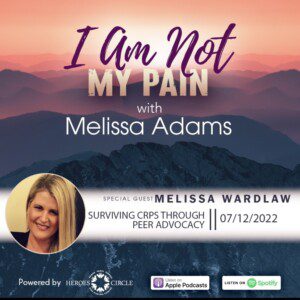 CRPS Warrior Melissa Wardlaw joined Melissa Adams on the "I Am Not My Pain" podcast on an episode titled, "Surviving CRPS Through Peer Advocacy."
Melissa was diagnosed with CRPS type 2 as a result of a non-paralyzing injury. She learned early the value of being her own advocate, but she also realized the tremendous gap in support, which is why this fierce warrior spends her time providing free peer counseling and advocating for CRPS and chronic illness awareness.
Listen to Melissa share incredible insight into CRPS as well as offer valuable advice for living with a chronic illness on Spotify and Apple.
If you are interested in online peer counseling with Melissa or if you live in the Metro Atlanta area and want to attend her in-person empowerment group for CRPS/RSD, chronic illness and pain, contact Melissa at [email protected].
Please consider making a donation to RSDSA today!