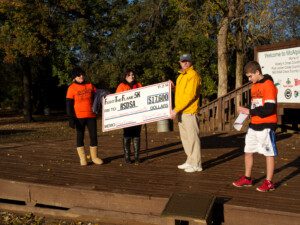 You are always welcome to visit the RSDSA website and take advantage of all of the information and resources you'll find here. But many members find that they get the most out of their affiliation with RSDSA by getting involved in our many activities. It's been proven time and again that those who participate actively in the community function better and lead more fulfilling lives. Whether you're an adult or a youth member, you can really make a difference! Here are some of the ways you can help the community and yourself.
Create and Run a Fundraising Event – Starting an event in your local area to raise funds for RSDSA can be fun as well as fulfilling. Kids, teenagers and adults have all had a hand in putting together creative events that get terrific support. Email us if you'd like to host a fundraiser. Here are a few ideas and links to tips for how to accomplish them.
Organize a Walk-a-Thon – These are always a popular way to raise funds. The following link will get you to all the information you need to create a successful walk-a-thon. How to Conduct a Walk-a-thon for RSDSA
Hold a Dine to Donate at a local restaurant – Many restaurants will be delighted to donate a percentage of the proceeds of a designated evening to RSDSA; especially when you invite a lot of potential new customers to participate. Here's a link to the story of a successful Dine to Donate event and everything you need to know do one of your own. How to Organize a Successful Dine to Donate for CRPS
Other interesting fundraiser ideas have revolved around Casual Friday and Wear a Hat to School Day. We can give you the details so that you don't have to re-invent the wheel. Or create an idea that you think will succeed in your area and go for it! Here's a link to a very useful article about how to run a successful fundraiser – regardless of the theme. http://rsds.org/tips-for-a-successful-fundraiser/
Join the RSDSA Peer-to-Peer Program – RSDSA will match you with one or more people for one-to-one mutual sharing and support. This is an individual kind of support that we believe will have the same positive results as a traditional support group. Well-screened volunteers have committed to supporting those of you who are struggling with your lives. You will engage in a conversation between equals, a conversation that will help you learn from each other to develop more satisfactory lives. You will feel freer to reveal your fears and your concerns because the person at the other end of the line will have experienced them as well. The end goal is to see yourself not as a disease, but as someone who happens to have RSD.
RSDSA will help with information, tools and advice. Perhaps you're a young person who would like to meet someone else your age who's dealing with CRPS/RSD, too. Or you're an adult who would like to know someone who is coping with chronic symptoms. Here's a link to additional information about the Peer-to-Peer Program. http://www.rsds.org/publications/2014-RSDSA-Program-Offers-New-Hope.pdf
Share Your Story of Hope – CRPS/RSD can cause great losses. However many people who persevere and take control of their condition chart courageous paths that inspire others – both within and outside the RSDSA and chronic pain community. When you share your story here on the RSDSA website and with your own local media, you can accomplish two very important goals:
Spread awareness of CRPS/RSD
Help others find their own strength and courage to live better with CRPS/RSD
Email us to talk about sharing your story of hope in writing or in a video.