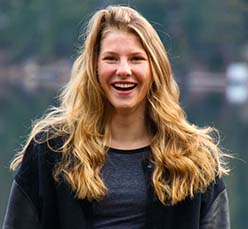 By James W. Broatch, RSDSA Executive Vice President, Director
In October, a friend of RSDSA, Tatum Bunnett will be embarking on a bike ride across our country to raise CRPS awareness and funds for RSDSA. You can donate on her FirstGiving page to help her.
This is what Tatum plans:
"I am a recent high school graduate who was diagnosed with CRPS when I was in the 5th grade. I was born with birth defects in both feet which caused CRPS, I battled CRPS for 3 years. After months and months of therapy, I was able to begin living a more normal lifestyle. While I am incredibly lucky to be able to control my CRPS and live normally again, it is still something I think about every day. That is why in the Fall of 2018 I will be embarking on a two-and-a-half-month bike ride across the US to raise awareness about CRPS. My father and I will be riding about 60 miles a day to complete the 3,000-mile journey and we will be riding from California to Florida over these months! CRPS has had a huge impact on my life and now I am looking forward to being able to give back to the CRPS community by spreading awareness about CRPS. Thank you!"
You may remember that Tatum's sister a recent Stanford School of Design graduate and two classmates designed a free downloadable pattern for comfortable work pants for people with CRPS who are experiencing hypersensitivity.  Their main mission was to empower people with CRPS, especially women. They designed and tested alterations to women's slacks that could help alleviate some of the pain that many pants cause on people with CRPS. They created an instruction sheet, so that anyone who is interested can download it for free online, take the pattern, an existing pair of pants, and fabric to their local seamstress to have their pants altered specifically for them. This model is much cheaper than manufacturing an entirely new clothing line for both us and our users. Check it out!
Likewise, in 2015, three young men rode the Great Divide in honor of Tessa Brianne Frank to raise CRPS awareness and funds for RSDSA.
Please join me in wishing Tatum and her father Godspeed as they embark on this arduous journey.  Please consider making a gift to support their effort and help RSDSA continue to make a difference in the lives of all affected by CRPS.  We will keep you informed of their journey.