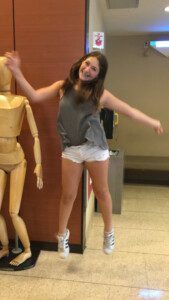 By Guest Bloggers Bobby and Lauren Gellert
The Gellert's daughter, Zoe, has faced CRPS head on. She has been inspired to do some great things. See what Zoe and the Gellert family are doing and what they learned about pediatric CRPS.
"Dad! You need to come home. The doctor said nothing is broken or torn, but I still can't put my foot on the floor. It feels like someone is sticking a knife through my heel and it's burning inside".
These were the words of our 11-year-old daughter, Zoe, who the day before was involved in a crush injury to her right ankle. Zoe was immediately non-weight bearing and was describing pain symptoms that made no sense based on the findings from her X-rays and MRI.  She was diagnosed with Complex Regional Pain Syndrome six weeks later.  For my wife and I, this was the first moment in our lives that 'brought us to our knees'.  Having a child that is constantly in pain with symptoms that got worse over time was a devastating situation that immediately threw us into acute survival mode to obtain the best and most immediate treatment for our daughter.
Zoe is very intelligent, passionate and determined – a born leader.  Over the past nine months since her injury, Zoe has learned an incredible amount about herself and her disorder.  Today, although Zoe is fully functional and playing sports, she continues to manage her daily pain with techniques that she has learned and that she is enthusiastic about sharing with other kids that are suffering.  Zoe is committed to creating overall awareness about pediatric CRPS and to raising money to help fund vetted treatment and research projects and to help support parents seeking financial assistance for their child's necessary treatments.  Attached below is a detailed video of Zoe's story that we would like to share.  We hope that you enjoy it and that it is inspirational for you or someone that you know with CRPS.  If you would like to email Zoe, please contact her at [email protected]. We hope to hear from you!
My wife and I are very grateful that within three months of Zoe's injury she was diagnosed, admitted into the hospital for intensive multi-disciplinary treatment and was released from the hospital walking without any support.  However, the feeling of being 'a fish out of water' is still very fresh for us.  Being thrown into the abyss of CRPS – whether during the pre-diagnosed, treatment or recovery stages – is completely overwhelming.  Throughout our research, it was very important for us to consider treatment options that were non-narcotic, non-invasive – but aggressive and appropriate for a child.  There were always many things to consider and every day brought new challenges.  So below, we feel compelled to highlight and share what we have learned about pediatric CRPS and what has worked for us and our family thus far in our journey…
Top 20 dos, don'ts, suggestions, and practicalities for pediatric CRPS*
Do not apply ice
Do not cast or immobilize
Do not get a flu shot
CRPS can spread throughout the body over time without treatment
Emotional stress can increase the baseline pain endured daily
Blood tests do not support or exclude the diagnosis – which is clinical and primarily based through observation of a variety of classic symptoms
Thermography may be the most effective non-invasive diagnostic tool
If your child must have an IV or get a shot, use the smallest needle possible – sometimes called a butterfly needle
Discuss with your doctor administering an appropriate dosage of Ketamine along with any anesthesia during surgery
Your child must be encouraged to stay engaged in everyday life activities while in pain – endure as much daily physical activity or physical therapy as your child can tolerate
Continually touch, rub and desensitize the affected area – this will facilitate the circulation of blood and oxygen flow and eventually reduce pain
Recovery is mostly about function over pain – explain to your child that he/she will not hurt himself/herself – if your child can function while in pain he/she will feel in control of the pain and the pain level will be reduced
Do not ask your child about the pain he/she is feeling
If your child complains about the pain, be sensitive, acknowledge the pain and distract him/her with homework, chores, physical or social activity – but move on from the conversation
Your child must accept and surrender to the pain without letting the pain identify who he/she is – do not allow your child to mentally cut off the affected area from his/her body
Seek a Cognitive Behavioral therapist so your child has someone other than you to talk with about what they are going through and to learn visual pain management techniques
All family members should be encouraged to discuss with a therapist how they are coping with the affected family member's diagnosis
Do not allow CRPS to take over the household or to be the main topic of conversation with family, friends and work colleagues
Consider Osteopathy and Homeopathy as regular, not alternative, treatment options
Five books to read:
Get Out of Your Mind and Into Your Life – Spencer Smith and Steven C. Hayes
Conquering Your Childs Chronic Pain – Lonnie K. Zeltzer M.D.
The Mind Body Prescription – John E. Sarno M.D
The Power of Now – Eckhart Tolle
Fulford's Touch of Life – The Healing Power of the Natural Life Force – Dr. Robert Fulford
*We are parents, not doctors; hence, we are not making any representations or warranties regarding the above information which is based solely on the results of our own research and experiences.
As you saw in the video, Zoe created a GoFundMe site. Please click here if you are able to make a tax-deductible donation and/or please share the GoFundMe site on your Facebook page or any other social media outlet.  We thank you in advance for your support and for your donation.
We also have an Instagram account at
@Zoesheroes
! It would be super if you would follow us on our journey!
With appreciation and gratitude,
Lauren and Bobby Gellert
Please consider making a donation to RSDSA today!