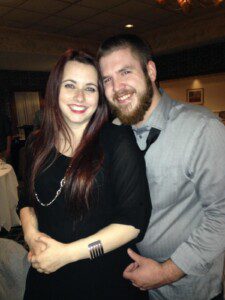 By Samantha Barrett, Special Events Coordinator
Last week, you were able to read about a bit of my engagement story. I got engaged in October and we instantly started planning (hey, I'm an event coordinator by trade, it was only natural). We signed up for all of the wedding planning websites, bought a giant wedding planning binder, and started keeping a wedding planning idea notebook. So now it's time for the next story in the CRPS Wedding Chronicles!
Since we've been together for almost nine years, we've talked about some of our wedding details before. Our colors are purple and silver, our theme is Beauty and the Beast, our bridal party was selected instantly, and our potential vendor list was easily made. Just a quick fun fact for you, our wedding is Beauty and the Beast themed because that has been our movie for years. People used to joke and call us Beauty and the Beast because of our personas, our looks, and some likely unknown factors. But my Beast is the reformed Beast.
We picked a date for our wedding and realized that it's a rather touristy time. We live by Cape Cod and have a summer wedding planned, specifically for the weekend right before the 4th of July. We had to dive right into looking into the venues and seeing if they would work for us. I sent a few emails and made a few calls to our top four locations. After speaking with the locations, I instantly cut two locations. (TIP: If the people start to give you an issue as soon as you call, don't waste your time with them). So, we went to tour one of the venues. We brought my mom along with us, just as a third set of eyes. This location had great meaning to me, so my expectations were unfairly high.
We drove up and I instantly got butterflies. The building was under new management, which made me nervous. I had only talked to the woman via email, but she seemed pleasant enough. I wasn't thinking to ask what entrance to use for this massive building, but naturally I went to the wrong entrance to start it all off. The main entrance was on the opposite side of the building, up a hill a bit. Since I had two people with me, we walked up the hill to the main entrance. It was unlocked (thank goodness) and the new manager was there. She looked at me and instantly felt awful for not clarifying what entrance to use. Sometimes, I forget that most "twentysomethings" don't use canes or wheelchairs on a daily basis, so I get surprised when others get surprised. Oops! Of course, there were no hard feelings and we started our tour.
We took the elevator upstairs to where the ceremony and cocktail hour would be. The building had recently had some renovations done and the room looked gorgeous. I went to the middle of the room and turned around in a circle, picturing everything. It was perfect. There was a chandelier that reminded me of Beauty and the Beast, there were sconces that looked like candelabras like Lumiere from Beauty and the Beast, the windows let in the perfect amount of light while maintaining privacy, and there was just so much potential. My mom was holding my list of questions and started going down the list. We have a really large guest list, so we wanted to make sure the room would hold everyone and still be handicap accessible. The manager really listened to all of our concerns and offered up suggestions for different things we could do in terms of setting up the room, grand entrances, and all of that jazz. So far, so good. We then took the elevator downstairs to the main room. I instantly teared up when we stepped into that room.
Flashback to little Sammie. About a year after I was diagnosed with CRPS, I started my own series of fundraising/awareness events called "Rock for RSD." I organized concerts in this massive venue in my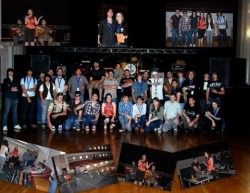 hometown because I was frustrated that people didn't know what CRPS/RSD was. I organized every element of these concerts-
sponsorships, bands, raffles, advertising and public relations, ticket sales, and everything else. I was only 14 when I started. This was how I started my connection with RSDSA. My concerts were extremely successful events. I went on to have one each year until I graduated high school. This entertainment venue happened to be the place that I was touring for the wedding. Funny how things come full circle, right?
Back to the story! We mapped out a bit of the floor plan and thought about décor. What's fantastic about this space is it can be a blank canvas for us. We're both relatively creative people (Aaron is an artist, I just get ideas), so turning this space into exactly what we want should be fun! Even better, once we figured out all of that, we were brought into the green room. More memories flooded my brain when we went back there. I had all my meetings with my bands there (and yelled at a few grown men for trying to break contract). I was very familiar with the space. We were told that we would be able to use that the full day. So if I have a lot of pain or my POTS starts acting up, I can go back in there and relax without being right in the spotlight. All I have to do is go through the doors. It's perfect!
We discussed some figures, my history with the hall (the manager had heard of my concerts and wanted to get me in to plan another one), and more of our vision. We then said goodbye and left the hall. When we got into the parking lot, we all stopped to chat. We were so impressed with what could be done, how accommodating the venue would be, and by the manager. We can bring in our own caterers, DJs, cake bakers, whatever we want. After calculating the minimum price from the other location we thought about touring, we decided it wasn't even worth it to tour. We picked our location!
So, if you're planning a wedding and are in the venue hunting stage, here are my tips:
Tour more than one location. (I happened to have already experienced events in the locations I had wanted).
Have a list of questions that you want answered with you. They may answer these questions before you ask them, but if there is something that is important to you, make sure you ask about it!
Bring trusted people with you. I'd suggest your fiancé/fiancée, but maybe consider bringing a member of your bridal party or a family member that may think of things that slip your mind (excitement happens).
Check for stairs, hills, gravel walkways, and other obstacles. A venue may say they are handicap accessible, but it may be difficult to navigate certain areas. The place you want your ceremony/reception may not have a realistically handicap accessible route.
If there is an area that you may not be able to get to, see if they will offer you some kind of accommodation. They may have a portable ramp, an alternate route that you don't see, or another suggestion.
Bring some images that act as your inspiration for the big day. Do you want a rustic wedding with bales of hay as the seating? Bring that in as a picture. Bringing in a few images will help the venue manager see what you want and will help you determine if that is realistic at that location.
Consider your creativity. Some venues are beautiful without needing anything else, whereas others need some decor help. If you don't want to spend extra time/money on decor, pick a location that is already picture perfect. If you want to utilize your Pinterest DIY pins, pick somewhere that is more of a blank slate.
See if there is a quiet area that you could escape to in case you get a surge of pain. Stress can impact your pain levels. At some point, you may want to just get away from the vibrations of the music and all of the people (no, don't use this to escape your in-laws. You're stuck with them now).
Beware of hidden fees. They are everywhere. Some locations, if you go over your time by 2 minutes, they'll charge you for an hour extra for the room fee plus the fee of staff. Make sure everything in the contract is written out clearly. Bring up any concerns you may have.
See if the venue requires you to use their vendors. Some venues have bakeries, caterers, and DJs that you must use. If you have your heart set on a certain bakery for your cake, that may be a a deal breaker.
Go with your gut. If you are getting negative vibes from the coordinator, manager, or other staff member that you will be in direct contact with, don't bother with the place. You don't want that negative energy to bring you or your loved ones down.
That's it for this issue of the CRPS Wedding Chronicles. Next time, join me as I go dress shopping for the first time.