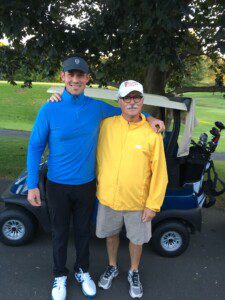 Interview Conducted by Samantha Barrett for the RSDSA blog.
Monday, September 26 is RSDSA's very first Longest Day of Golf. We wanted to find someone that would represent us in a great way. That's when Zach Baron came along. As this is being posted, Zach is trying to complete as many holes of golf as possible for RSDSA. People have been making pledges per hole and one-time donations to make this event a success. The more holes of golf Zach completes, the more fundraising is done for RSDSA. We interviewed Zach before he took to the green.
Samantha Barrett: Hi Zach! Thank you for participating on behalf of RSDSA for the Longest Day of Golf. Can you tell us a little bit about yourself?
Zach Baron: My name is Zach Baron and I'm currently the Director of Sales at one of golf's leading technology companies, Arccos Golf. We create technologies that allow golfers of all skill levels to maximize their potential and optimize their enjoyment.
SB: What sparked your interest in golf?
ZB: I started playing golf competitively in high school, which is when I really fell in love with the game.
SB: Wow! That's great. How did you get into the professional golf industry?
ZB: I attended Coastal Carolina University, where I graduated with a Business Management degree and a minor in PGA Golf Management. This ultimately led me down a path of building a career in the golf industry. I started my professional career as a golf instructor, working for Hank Haney (Tiger Woods' former golf coach) and also Nike Golf.
SB: That's quite the path to a great career! What is your favorite thing about the sport in general?
ZB: I enjoy the challenges around golf. It's really a difficult game, but when you're able to put all the pieces together, it's truly a rewarding experience.
SB: Have you ever participating in a golf fundraiser like LDOG before?
ZB: I've participated in many golf fundraisers over the years and look forward to helping another great cause [through] RSDSA.
SB: We're so glad to have you! What made you want to help RSDSA by participating in the Longest Day of Golf?
ZB: I was presented with the opportunity to participate in this event and after learning more about the cause, I couldn't say no!
SB: What do you think the most challenging part of the day will be?
ZB: Being able to stay focused throughout the entire day will be challenging. Playing this much golf can be very draining mentally and physically.
SB: How many holes do you expect to complete?
ZB:  I'm thinking between 45 and 54 holes will be a reasonable number!
SB: What do you hope that your participating in this event will lead to?
ZB: I hope that my participation in this event will raise a lot of money that will go towards RSDSA and ultimately will help more people battling [CRPS/RSD].
RSDSA would like to thank Zach for his hard work and dedication to the cause. Stay tuned to the RSDSA social media pages to get updates on how Zach is doing through the day.
You can continue to make a pledge per hole until noon Eastern on September 26 and can make one-time donations through the evening that day. To make your pledge, or to find out more about how to make a one-time donation, please email Samantha Barrett at [email protected].