Sarah Phillips-O'Steen is an ally to the CRPS community. Ever since she was 2 years old, she has been witnessing what CRPS/RSD can do to a loved one. Her father, Julian Phillips, has been living in pain since his daughter was toddling around. As Sarah will tell you, he's always been good at hiding his pain, but she has never known him without it.
In January 2015, Julian took a terrible fall that sent him into one of the worst CRPS/RSD flare ups that he had ever experienced. This guided him into full body CRPS. While Julian was spending time in hospitals, fighting the pain, Sarah witnessed some of the grim realities that come with CRPS. Medical staff didn't know how to handle a person in so much pain, never mind the fact that they even had the slightest idea of what CRPS/RSD was. Sarah decided enough was enough. While sitting by her father's bedside during a ketamine infusion, she started researching awareness event ideas, primarily benefit 5k's. She stumbled upon a 5K in Charlotte, NC that benefitted RSDSA- Fight the Flame 5K. Sarah then immediately reached out to them and established a friendship with the Stillitano family. Once Julian was released from the hospital, Sarah approached him and her family with the idea to do a 5K and to fundraise for RSDSA. Julian wanted to take it a step further and start a support group for those suffering from all types of chronic pain. Thus, Knock Out Pain was born. It is a full out family affair. Julian and Sarah's mother work on the support group, while Sarah, her siblings (Craig and Hannah), and other family members work on fundraising and awareness. They held their first benefit that March in Trexlertown, PA.
For Sarah, RSDSA was a natural choice to donate to. According to Sarah, RSDSA has done and continue(s) to do some great things. When needing guidance to start this project, RSDSA Executive Vice President and Director Jim Broatch was there, supporting and helping her get the right contacts and start on the right foot.
Knock Out Pain 5K and 1 Mile Fun Walk will be taking place on September 17, 2017 in Easton, PA. This is their 3rd fundraising sports event and 2nd 5K. Last year, with their first 5K, they were thrilled with the 50+ participants and their hope is that they can double that figure this year. What makes this event stand out is that it's the only 5K in the Lehigh Valley that benefits RSDSA AND it is a small family event. It is a wonderful demonstration of what happens when we are all able to come together to support a loved one in need. Sarah will tell you that the event is not a giant event that you'll get lost in the crowd in, but it's an event to bring people together and to make people aware of this disease that affects people worldwide, although little have heard of it. You can be the next Usain Bolt or you can be the polar opposite. All levels of runners and walkers are welcome at this event.
The overall goal of the 5K is to raise awareness for CRPS. That is the goal for the entire family. Sarah's personal goal is to make her father proud and touch at least one person's life. She hopes people walk or run (no pun intended) away from this 5K armed with knowledge that there are more diseases out there that impact people and their families that deserve time and attention, too! Sarah wants to make sure that people realize that diseases can be invisible and we all need to remember we shouldn't judge anyone until we walk a day in their shoes.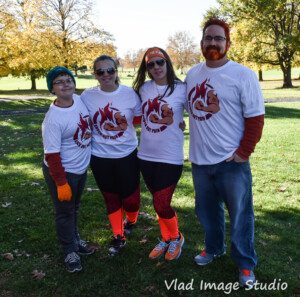 Making it more of a family affair, Sarah has stated that she never would have started this had it not been for her husband supporting her through and through. They have an amazing 5K committee that includes friends of theirs on top of family- Rob, Aubrey, Mike, and Kathy. Other friends continue to support them behind the scenes by sponsoring, campaigning, web designing, graphic designing, and being a shoulder to lean on when times get stressful or emotional.
While Julian is Sarah's number one inspiration, when she stops and thinks, she sees all of the other people and reasons that she puts on Knock Out Pain 5K. Her mother has dedicated her life to being by Julian's side through surgeries, medications, frustrations, setbacks, and more and has continuously changed her own life around so Julian could have more of a "normal life." Sarah states that her mother is an inspiration of what a true wife/mother/grandmother should be. Then, there are two men that have the same hopes, dreams, and desires as Sarah, which is that everyone will know of CRPS one day. Those men are her husband, Kyle, and brother, Craig.  They continue to push her and support the cause, all while working tirelessly with Sarah to make Knock Out Pain something. But, Sarah also does this for her kids and youngest sister, Hannah. The inspire her to set a good example of what a leader looks like. She wants to encourage them to set goals and achieve them, no matter what obstacles may appear.
Participating in awareness and fundraising events is important. Giving back to the cause that helps families and individuals affected by this monstrosity of a disease is important. Sarah likes to give back to those that need it. Both Sarah and her husband feel they have been blessed throughout their lives by the kindness of others, and now is the time to pay it forward.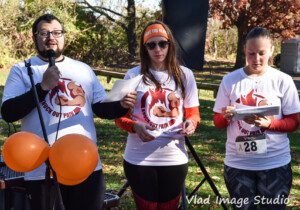 As Sarah stated, "What do you have to lose?" Join us at Knock Out Pain 5K on September 17, 2017. It will be a fun morning getting some exercise and/or meeting new people while learning more about CRPS. You can register for this event by clicking here. If you cannot make it out to the event, you can also give a general donation to this walk.
We are incredibly inspired by the entire Phillips/O'Steen family. Thank you to Sarah, Julian, and the rest of the family for taking on such amazing tasks within the CRPS/RSD community and for continuing to give back.  Help them help you and others with CRPS! Let's Knock Out Pain together!