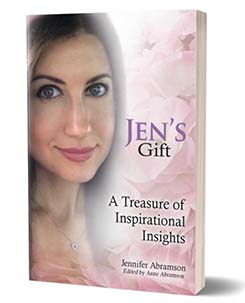 By James W. Broatch, MSW, RSDSA Executive Vice President, Director
In August, I blogged about Jen's Gift, a posthumously published collection of Jennifer Abramson's optimistic and spirit-filled postings from her Instagram profile. Despite suffering with Lyme disease, toxic mold syndrome, and CRPS which rendered her housebound, Jen posted beautiful unique photos accompanied by insightful quotes, clever humor, and wisdom which continue to inspire her readers today.
In celebration of Jen's life, Annie Abramson, Jen's mother, has created a fundraising challenge for the CRPS community during November's CRPS Awareness month. Annie has pledged to match up to $10,000 for every dollar which is spent purchasing Jen's Gift or donated in Jen's memory. All of the challenge proceeds will be invested in RSDSA's research fund.
Jen's Gift is a wonderful treat for yourself or for friends. To purchase a copy, please visit, jensgiftbook.com.
To donate in Jen's memory, consider making a donation to RSDSA today!