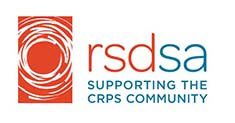 Welcome to RSDSA's new website and blog. We've updated our presence on the web in order to better serve the CRPS/RSD community. The new website is very user friendly and easy to navigate. The idea is to help you quickly find the information, tools, and strategies you need to understand the diagnosis of and treatments for CRPS — and how to live well despite having this condition.
For those visitors who don't know about us or about CRPS/RSD, RSDSA is an international not-for-profit organization based in Milford, Conn. Our mission for the last 30+ years is to provide support, education, and hope to all those affected by CRPS/RSD while we drive the search for better treatment options and a cure.
Complex Regional Pain Syndrome (CRPS), formally known as Reflex Sympathetic Dystrophy (RSD), is a difficult-to-diagnose progressive neuroinflammatory disorder characterized by intense, severe pain, swelling, and hypersensitivity to touch. CRPS' pain is rated as greater than cancer pain or the amputation of a digit on the McGill University pain index.
Those with CRPS/RSD often experience this level of pain 24 hours/seven days a week — so you can understand why it is so debilitating for many. It can be triggered by a minor injury, surgical procedure or other physical trauma and the pain is far out of proportion to the incident. You can learn more about this condition here on the site.
Although it's categorized as a rare disorder, we believe that there are many undiagnosed people suffering. This site is designed to help:
People with undiagnosed symptoms
Individuals newly-diagnosed with CRPS/RSD (You'll find some very helpful videos on a page just for you.)
Those living with chronic CRPS/RSD symptoms
Youth with CRPS/RSD
Friends and family serving as caregivers
Medical and research professionals
Corporations and foundations that support organizations like ours as part of your charitable giving
We've built a community for everyone interested in CRPS/RSD – and this website is its home. Please spend some time to explore.
Under the Community tab, you'll find out how to join us and get involved. You'll also find out how to connect with others living with CRPS through our peer-to-peer program and to find and join a support group.
Throughout the site and on our YouTube channel you'll find dozens of videos by leading pain specialists, from individuals with CRPS offering useful advice from their experience, of our many meetings and conferences, about diagnosis and treatment guidelines.